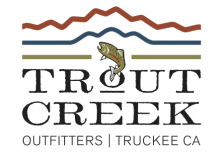 Fly Fishing Shop in Truckee, CA
Carrying the very best brands that the sport has to offer, Trout Creek Outfitters is the premier fly fishing shop in Truckee, CA and the Lake Tahoe area. The staff at Trout Creek is best known for its local knowledge that can help you have the best experience possible out on the water. The shop is fully stocked with the latest gear from top brands such as ORVIS, Sage, Redington, Simms, Umpqua and Fishpond, as well as unique products from local artisans.
Guided Fly Fishing in Truckee, CA
Whether you're new to fly fishing or an experienced angler, a guided fly fishing trip with one of our our local experts can make your experience one that you'll never forget. There's always something to learn and new waters to explore. Truckee, CA is the corridor where I-80, I-89 and Highway 267 all merge. Everyone from beginners to advanced anglers have the opportunity to fish high-elevation lakes like Tahoe, Donner, Pyramid or smaller braided sections of the connecting rivers. Our region is home to dozens of world class lakes, streams and rivers, most of which are within a 15-minute drive.
Weekly Fishing Reports
Be sure to read our weekly fly fishing reports to learn about conditions on the big Truckee River, Little Truckee, and the surrounding creeks and lakes.