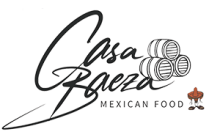 Mexican Restaurant in Truckee, CA
Casa Baeza Mexican Restaurant, located in historic downtown Truckee, CA, has been a local's favorite for decades owing to the restaurant's fantastic food and lively full bar. Casa Baeza serves authentic Mexican dishes and specialties with the Baeza family twist. The atmosphere is cozy, casual, and fun making it a perfect gathering spot for family and friends.
You don't want to miss Taco Tuesdays featuring Mexican street-style tacos or Casa Baeza's long-running Happy Hour weekdays from 3 to 5 p.m. No trip to Baeza's is complete without enjoying a michelada, one of Cesar's delicious margaritas, clay pots, or a tequila shot from the bar's extensive, curated collection.
Casa Baeza offers taco platters, family meals, and catering featuring their beloved Taco Bar where no one is left hungry. During the summer months, be on the lookout for the Casa Baeza Food Truck at Truckee Thursdays in downtown Truckee.