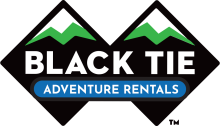 North Tahoe Equipment Rental & Delivery
At Black Tie Adventure rentals, outstanding customer service is our top priority. Our professional team and specialized ski technicians are dedicated to providing the highest level of service to our guests and ensuring they have the best vacation experience possible! The goal is to have people spend more time outside at the lake or the and less time waiting in line. 
Simply place your order before you arrive and we'll deliver the equipment to you! This course of action began in 2002 when the founders of Black Tie watched families wait in long lines after days of long travel before they were able to get their ski equipment and go on their adventure. They gathered up a few hundred pairs of skis and began a service that allows visitors to have less time waiting in lines and more time outside spending time with the people you care about. After years of primarily focusing on ski equipment, they are now offering rental equipment for the summer seasons as well! They are the go-to place for e-bikes, mountain bikes, 4×4's and SUPs in North Tahoe. 
Free delivery. In-room fitting. Slope side service. Seamless return.
Book equipment for your next adventure today. Black Tie Adventure Rentals offers a selection of e-bikes, mountain bikes, 4×4's and SUPs to reserve. If anything goes wrong with the equipment or you need assistance during your rental, they're easily accessible via phone call to get you back on your adventure as soon as possible. Black Tie wants you to enjoy every minute of your adventure, so they also offer to meet you to collect the gear once you are done using it.