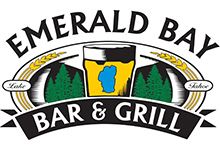 Formerly known as Brothers, Emerald Bay Bar & Grill is conveniently located on Emerald Bay Road in South Lake Tahoe making it the perfect stop on your way to or from your Tahoe adventure.
Emerald Bay Bar & Grill features breakfast, lunch and dinner served daily as well as awesome daily food and happy hour drink specials such as their famous $2 tacos and beef sliders, Chili Verde weekend breakfast and Steak and Shrimp Sunday dinner. 
Touchdown at Emerald Bay Bar & Grill! 
Watch all your NFL games with us, on us. Come support your favorite teams and score BIG on daily food and drink specials. With having enough TV's to stream every and any game, all football enthusiasts are welcome! 
Outdoor Patio with Firepit
Emerald Bay is a great spot for outdoor dining on their large patio with a fire pit as its centerpiece. Don't forget to enjoy a game of horse shoes. The bar features a jukebox and 9 flatscreen TVs and a huge 110" outdoor projector making it the place to watch sports.  
Breakfast at Emerald Bay Bar & Grill
Emerald Bay Bar & Grill is a longtime favorite among locals for breakfast. From 10:00 a.m. to 2:00 p.m. daily, guests enjoy breakfast specialties such as the colossal Country Fired Steak, Crab Benedict, the Summit Sandwich and more. Be sure to try Emerald Bay Bar & Grill's famous Shrimp Bloody Mary on weekends during the football season.