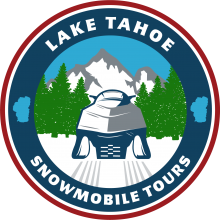 Welcome to Lake Tahoe Snowmobile Tours! We have been expertly guiding tours as North Lake Tahoe's premier snowmobiling operation since 1984. Our mountain tours are designed for all ages and ability levels from newbie to expert. We travel on groomed and powder trails through our pristine National Forest that offers incredible views of all of Lake Tahoe.
Our tours provide a thrilling snowmobiling adventure amidst the breathtaking beauty of the mountains. Get surrounded by tall Pines and Aspen Groves, carve through powder-filled meadows, around frozen lakes, and along lake view ridges to summits overlooking Lake Tahoe. From an elevation of 9000 feet, spectacular unobstructed views of the lake and surrounding ski resorts provide the best backdrop for your snowmobiling adventure. Scheduled stops allow time to enjoy the dramatic scenery from the crest of the High Sierra while also capturing your own photos of Tahoe's splendor. You will love our excellent staff of guides who are professional, friendly, and know the trails in the area better than they know the roadways.
Discover the awe-inspiring landscape and enjoy the freedom of a backcountry adventure in the rugged Tahoe wilderness with Lake Tahoe Snowmobile Tours. We are certain this will provide an exhilarating experience and memories that will last a lifetime.