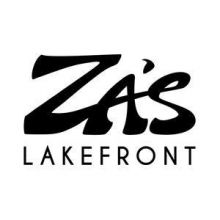 Lakefront Restaurant in Tahoe City, CA
Za's Lakefront is a legend in Tahoe City, CA. Anyone who lived or frequented North Lake Tahoe area in the late 1990's or early 2000's will tell you that Za's was one of their frequent haunts. Za's is remembered as a cozy, relaxed joint, you could bring the entire family and everyone would enjoy their meal. 
In 2005 owner and chef Jonny Roscher decided to close Za's and take his culinary talents on the road as a private chef for John Force Race Team. As all who have traveled will tell you, life on the road is wearing and in 2013 Jonny decided that it was time to reopen Za's, back in its original location behind Pete 'n Peters in downtown Tahoe City. Old favorites from Za's original menu came back and new dishes have been added, inspired from Jonny's travels.
In the summer of 2018, Za's moved to a beautiful NEW Tahoe City lakefront location – tripling their dining area! Za's Lakefront still offers the same mountain casual atmosphere, but now offers both lunch, dinner, a full bar and the BEST view in North Lake Tahoe!