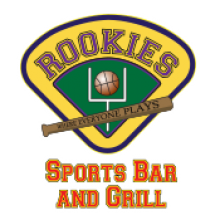 If you're looking for a place to watch a particular sporting event – obscure or otherwise – Rookie's is probably showing it on one of their 30 high-definition TVs. The menu features salads, wraps, sandwiches, grinders (a sub doused in marinara sauce), and a long list of gourmet burgers. Our kitchen stays open late into the night.
We feature daily specials like half-price burgers on Tuesdays and Wing Wednesdays. There's a separate pizza kitchen cooking up some good pies. Rookie's has a full bar where you can sit and play video poker, or you may want to slip out to the patio to soak up some sun or take in the night stars. There are video and arcade games for kids of all ages.
Sports memorabilia covers the walls, and there's a performance area featuring live music some Thursday nights. Order yourself a pizza, get a cold one, and settle down in front of the TV showing that volleyball game from your alma mater you so want to see.