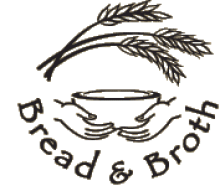 Bread & Broth is a volunteer non-profit organization on a mission to ease hunger in the Lake Tahoe South Shore Community.
Our meal programs are open to all who come to our doors. We offer hot dinners every Monday at St. Theresa Church Grace Hall, as well as soup and simple meals Friday evenings at Lake Tahoe Community Presbyterian Church (currently served at St. Theresa Grace Hall while fire damage at LTCPC is addressed).
To help food insecure children in the Lake Tahoe Unified School District, we offer weekend food bags to needy K-8 students as well. We also provide more than 500 nutrition bars to the K-12 administrative staff and teachers to be given to hungry students during the school day. To ease hunger during summer break, kid-friendly meal packages are made available on Wednesday mornings to all children 18 and under.