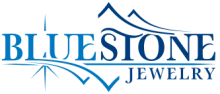 Bluestone has the largest and best selection in Lake Tahoe location inspired jewelry, fine wall art and unique pieces. Lake Tahoe comes alive at Bluestone whether it is Lake Tahoe jewelry, fashion designs, wedding, anniversary or custom made designs. Not like other jewelry stores, the people, dog, and the products there are unique indeed.
Bluestone's custom designer can create any piece your heart desires. Bluestone designers draw your idea, wax model it and make your statement piece. Their strength is in "repurposing" of jewelry pieces you have and won't wear into a new design that will show off the stones you treasure.
Lake Tahoe is a unique place and our pieces are unique as well. Both have depth, clarity and beauty and Bluestone would love to bring Tahoe to you.