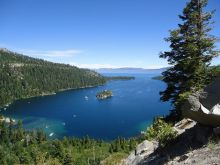 The area we know as greater Tahoe stretches from Truckee in the north to Alpine County in the south, including a number of counties in both California and Nevada. Despite earlier steps taken to ease business restrictions, none of the communities around the lake are back to any sort standards that would have been considered normal in the pre-pandemic world. Photo at left: Pixabay, Eric Simon.
In California, each county is tagged with a tier rating that is based on "test positivity and adjusted case rate for tier assignment including metrics from the last three weeks." As of August 31, Placer County's metrics place it at Widespread on the COVID 19 scale, along with most of the state of California. This rating requires that many non-essential indoor business operations be closed. Nevada County and El Dorado County are rated at Substantial (some non-essential indoor businesses operations are closed), while Alpine County has a rating of Minimal the best possible rating and one that is shared only with Modoc County up in the northeast corner of the state, allowing most indoor business operations to be open with modifications. California is currently under a statewide mask mandate, and the City of South Lake Tahoe has enacted fines to be imposed for violations, including up to $500 for businesses and up to $100 for people who do not wear a mask in public.
As of August 3, the State of Nevada released the next component for the Road to Recovery plan, entitled Moving to a New Normal, which outlines the requirements week by week for counties to move to less COVID-related restrictions. It's an attempt to implement a targeted approach to recovery and let the counties with fewer risk factors to get back to business sooner. As of August 27, Washoe County (which covers the northeast corner of the Tahoe Basin, including Incline Village) met two of the three elevated disease transmission criteria, and the state's Task Force approved a continuation of restrictions for bars, pubs and breweries. Nevada has a state mandate requiring individuals to wear a mask while in public. There are a number of exemptions to the rule, including children younger than 9 and people working outdoors or engaged in activities outdoors such as walking, hiking, running or biking.
Restaurants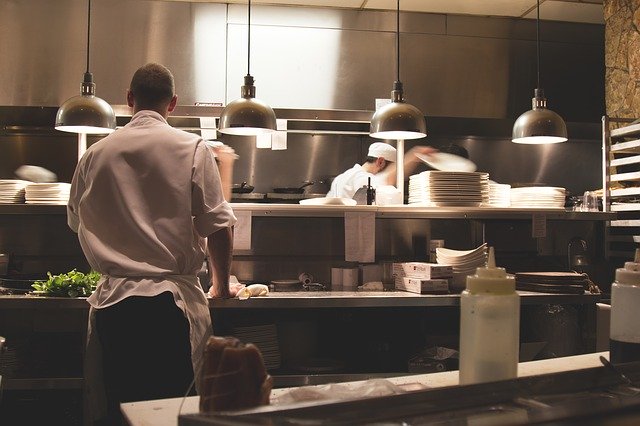 As of August 31, dine-in restaurants in El Dorado County, which includes the City of South Lake Tahoe, may open to serve customers indoors. The number of diners will be limited to 25% of capacity for the business. Bars, brewpubs and breweries are prohibited from operation either indoors or outdoors unless offering sit-down meals, and in that case, alcohol may be served in the same transaction as the meal. They can also still offer curbside or home delivery. Photo at left: Pixabay.
Tahoe City, the California side of the North Shore and the West Shore area that is within Placer County have, for the most part, full restrictions on indoor business, including restaurants.
Nevada County, including Truckee, has made enough progress that the restaurants can open for indoor dining at 25% of capacity as well as outdoor dining and take-out. Breweries that also serve food can serve meals outdoors.
On the Nevada side of the South Shore, indoor dining is allowed with a cap on the number of diners at 50% of capacity. Bars cannot operate, but drinks can be served at the table.  
The North Shore on the Nevada side has restaurants operating for indoor dining at 50% of capacity and a maximum of 5 people to a table.
For the most part, restaurants can still offer curbside take-out and home delivery, but it's always best to call and check exactly what your favorite eatery has opted to provide these days.
Shops
Retail shops are allowed to be open for in-store shopping. Social distancing and caution while shopping are still the guidelines by which to operate, along with 6-foot distancing, and face covers are required for employees and very highly suggested for customers as well as the sanitizing of such objects as carts and baskets after each use. 
Things to Do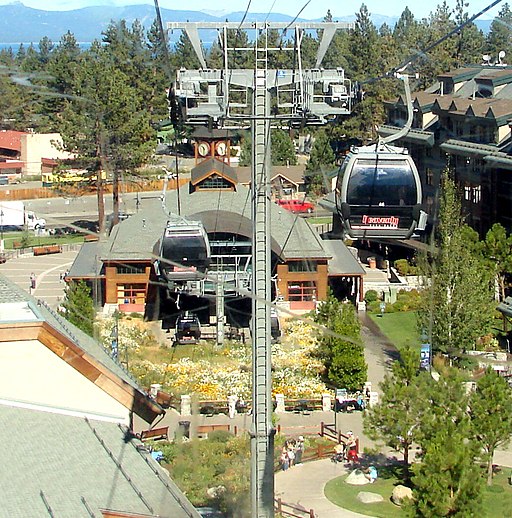 In California, all indoor operations in the following businesses remain closed: wineries and tasting rooms, movie theaters, indoor sports such as bowling, arcades and mini-golf, museums. A good rule of thumb is that if it's indoors, it's probably going to be shut down. On the other hand, if you can handle the smoke, most of the outdoor offerings throughout the area are at least partially open. This includes the Heavenly Mountain Resort activities such as the Heavenly Gondola, the state parks on both sides of the line, Camp Richardson and its related facilities as well as Round Hill Pines and Zephyr Cove. Forest Service trailheads and beaches are open as is Truckee's West End Beach, along with the skate park and bike park. Photo at right: Wikimedia Commons, Don Graham.
On the Nevada side of the lake, the casinos are back in business with new safety protocols. Look for strict limits on how many people can be playing at any given card table or table game, and note that the rate of play may be slowed in order for the tools of the trade, such as dice, chips, and cards, to be sanitized.
As for taking a boat ride on the lake, look for most of the commercial cruises to be up and running with most of the normally scheduled offerings on both the North Shore and South Shore and even some new faces on the lake.
Hotels, Motels, Inns and Campgrounds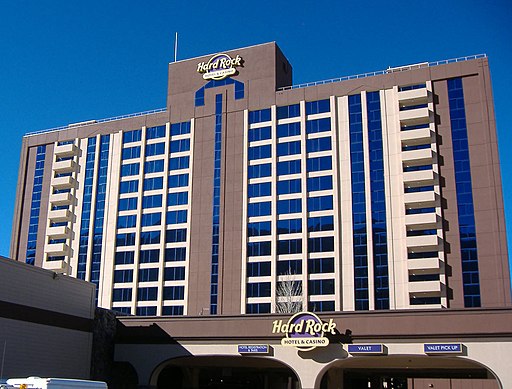 The majority of the area's hotels, motels, inns and even campgrounds are open for business. Regulations and protocols regarding sanitizing, cleaning and distancing are in place and may impact availability, but it's also a good time to find some great vacation deals as the lodging industry works to woo visitors in an attempt to make up for time lost to the travel restrictions that were in place earlier this year. For those who want to enjoy the great outdoors by camping in or near the Tahoe Basin, be aware that the fire danger is spiking into the red zone and behave accordingly. Photo at left: Wikimedia Commons, PL Sublett.
Vacation Rentals
Hotels and inns are trying to fill rooms, but on the other side of the coin, vacation rentals are booking up fast. Since most of these sorts of lodging options are individual units or complexes with a much lower number of rooms, coupled with the fact that vacation rentals allow guests to more easily keep their distance from other vacationers, many of these offerings are being snapped up and reserved far into the season. If you are looking for a vacation rental in the Tahoe area, the best rule of thumb is to book your reservation earlier rather than later.