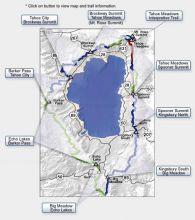 Since its inception more than 25 years ago, the Tahoe Rim Trail has been thought of as a way to experience Tahoe's beauty from its highest reaches. The trail, which runs along the ridge tops of Lake Tahoe, actually can be compressed into several digestible parts. It's the perfect outdoor resource for young families who want a few hours to frolic among the wildflowers or for the hardened through-hiker who would like to spend several days amid Tahoe's high-elevation splendor.
Here are three suggestions for Lake Tahoe hikers of beginning, intermediate and advanced abilities:
Tahoe Meadows
Beginner
Getting there: Located right off Highway 431, 1 mile west of Mount Rose summit. This trailhead, at about 8,740 feet, is conveniently located and is the gateway to the Spooner Summit trailhead, 22.3 miles. Of course, if you're a beginner, you need only follow the moderate to easy terrain out as far as you'd like. There are plenty of historical markers for the history buffs. A bonus is the interpretive, handicap access 1-mile hike that takes you on a pleasant, flat and easy walk through Tahoe Meadows itself. Remember that water is scarce on this side of the TRT, so prepare accordingly.
Spooner Summit
Intermediate
Getting there: South side of Highway 50 at the Spooner Summit sign.
Spooner Summit, at about 7,150 feet, offers some of the best viewing of Lake Tahoe. The trail hugs the rugged peaks of the Carson Range, taking hikers through acres of ancient firs as well as dramatic granite outcrops. Out-and-back is probably the best way to go on this hike, which does have some climbing involved. If you want to park another car, a challenging 12.2-mile one-way route will take you across the highway and head south to Kingsbury Grade. Pay attention to the blue Tahoe Rim Trail signs, particularly as you head up South Camp Peak at 8,866 feet before you make the gentle descent to Kingsbury North (7,920 feet). Again, water is hard to find on this stretch of the trail, so bring plenty with you.
Barker Pass to Tahoe City
Advanced
Getting there: Starting from Barker Pass, take Highway 89 and turn on Blackwood Canyon Road, 4.25 miles south of Tahoe City. Follow around to the left 7.2 miles to the trailhead. There is a dirt parking lot with a vaulted toilet. Starting from Tahoe City, trailhead is off the west side of Highway 89, about a quarter-mile south of the junction with Highway 28. Paved parking in Truckee River Access and Recreation Lot. Follow bike path to south shore of river, then turn right through the Forest Service gate and onto gravel road for .3 miles. The TRT becomes a dirt path through the next gate.
Wildflowers are at a premium on this stretch, which combines both the TRT and the Pacific Crest National Scenic Trail. Page Meadows, near Tahoe City, is one of the highlights with its abundant wildlife and wildflowers. The grade isn't too tough; there are a few 10-percenters in there to get your blood flowing. During snow years, it takes a little longer for this area to become accessible on foot.
For more information on these trails or about the Tahoe Rim Trail, check out: tahoerimtrail.org