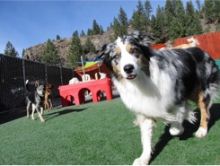 At Truckee-Tahoe Pet Lodge, making dogs and cats happy is the name of the game. In fact, pets like it so much they can't wait to come back. 
"I have dogs that drag their owners back in, and some owners tell me that their dogs even start wagging at our exit off the highway," Operations Manager Cassidy Forsman says. 
In this full-service mountain resort catering to cats and dogs, Forsman and owner Steve Sewell are professional and passionate about the level of service they give their furry guests. Their lobby walls are lined with Best Of awards, and all the staff members are certified in outstanding pet care and in CPR for animals.
On the first floor of the 10,000-square-foot resort, a cluster of cat suites lines a modern room with a small fish tank sitting at the center — for the kitties' viewing pleasure, of course. The Pet Lodge has 10 cat rooms and offers an activity package that includes two interactive play sessions, a Catch of the Day treat and at least three to four hours out of their room for free-roaming time in the playroom. 
The hotel has several sections of dog rooms and suites, from Smallville for dogs 25 pounds or less to luxury rooms with couches, wood-paneled walls, duck decor and flat-screen TVs showing pet-friendly flicks.
Shy dogs can enjoy a quiet, private room or a room that is enclosed top to bottom with darkened windows so that they don't even have to see the other guests. Dogs with outgoing demeanors can stay in a more social setting. Pet siblings often stay together, and the lodge can provide special amenities for old, frail dogs.  
The staff keeps meticulous charts on the guests' health, including their feeding schedule and bowel movements. At the end of the night, each guest gets a five-point wellness check, assuring owners that pets are kept in good health during their stay. The pets are given a freshwater bowl and blanket each day, and the living quarters are regularly cleaned. A kitchen is available with a fridge and a microwave so that staff can accommodate pets with special or raw diets. 
The lodge also offers their dogs 4,000 square feet of fenced-in outdoor space, most of it covered with special canine grass and outfitted with kiddie pools, picnic benches, fire hydrants, shade tarps and a puppy playground. Dogs can play indoors or out, and in the winter it's normal to see them happily creating snow tunnels. Aggressive, old and un-neutered dogs are provided with individual playtime to keep everyone safe.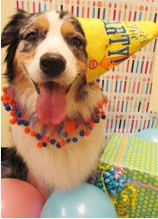 Truckee-Tahoe Pet Lodge also finds any reason to throw a party, and events such as Howl-o-Ween and Santa Paws are some of their favorites. Birthday dogs are given homemade human-edible cake, presents and a framed photo to take home. 
The Pet Lodge just opened a full-service grooming salon, which gives owners the bonus of having their dog pampered and primed before leaving the resort.
Pets can stay for just a couple of hours or up to six months, and owners regularly say how delighted and happily exhausted their pets seem when they get home.
"Pet owners can get stressed when they have to leave their dog or cat somewhere," Sewell says. "To be able to relieve that stress and see their loved ones happy and relaxed is a great feeling."
Truckee-Tahoe Pet Lodge
10960 W. River Street, #106E, Truckee
(530) 509-5862
truckeetahoepetlodge.com