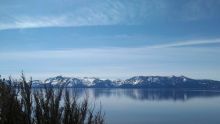 As of mid-February, the region of California that covers the Tahoe and Truckee area (Nevada, Placer and El Dorado counties) remains at the Purple Tier of COVID-19 restrictions, meaning that lodging providers such as hotels and motels can provide rooms, retail shops can operate at 25% of capacity and grocery stores at 50% of capacity, restaurants can offer outdoor dining in addition to take-out orders and wineries and tasting rooms can conduct outdoor service. The State of California travel advisory discourages non-essential travel but does allow for tourism or recreational travel within the state that is within 120 miles of home. And this also allows for the Tahoe ski areas to conduct operations this winter. Additionally, California's statewide mask mandate is still in effect. Photo at left: Pixabay, Patricia Kochamp.
On the Nevada side, the governor has ended the pause that was put in place in November and loosened some of the pandemic-related health and safety restrictions. Restaurants are now allowed to serve at 35% of capacity, and the maximum number of people allowed to sit at one table has been increased from four to six. Additionally, the requirement for reservations in order to eat at a restaurant has been removed. At many businesses, such as gyms and studios for dance or fitness, the numbers have been increased to 35% capacity, but the statewide mask mandate remains, and masks must still be worn, even while exercising or performing strenuous activity. Some other businesses or activities such as museums, bowling alleys, libraries, galleries and arcades are now allowed to operate at 50% capacity. Casinos are now allowed to operate at 35% of capacity.
Restaurants
The restaurants on the California side of the Tahoe region, including bars and breweries that also offer food, are now limited to outdoor operations only, which can include delivery and curbside service. On the Nevada side of the lake, restaurants are open for indoor dining with a cap of 35% of capacity and with a maximum party size of six people at a table. Delivery or curbside pick-up still remain good options for dining on both sides of the Tahoe area. Photo at right: Pixabay, Nali Wike.
Shops
Retail shops are allowed to be open for in-store shopping, but the number of people allowed inside the stores is drastically reduced. In California, they can operate at 25% of capacity, in Nevada at 50%. Social distancing and caution while shopping are still the guidelines by which to operate, along with 6-foot distancing, and face covers are required for everyone including employees and customers. 
Things To Do
Ski resorts on both sides of the California/Nevada border are allowed to operate under modified restrictions such as no on-site food and beverage service. In California, venues such as movie theaters are closed. In Nevada, some venues including fitness facilities, arcades, bowling alleys and pool halls are allowed to operate at 35% of capacity. Libraries, museums and galleries are moving to operations at 50% capacity. Photo at left: Pixabay, Jorg Moller. 
Casinos
On the Nevada side of the lake, restrictions have loosened to allow casinos to operate at 35% of the maximum capacity of the business, with strict limits on how many people can be playing at any given card table or table game and social-distancing practices such as keeping every other slot or video game vacant. Surfaces of the machines and common areas are sanitized on a rigorous schedule as are the dice, chips and other tools of the trade. Hand-sanitizing stations abound, and everyone is required to wear a mask. Some gaming establishments have temperature screening for all guests and employees. 
Hotels, Motels, Inns and Campgrounds
Lodging providers in the California part of the Tahoe area can once again provide rooms for travelers. Outdoor fitness areas at hotels can operate with modifications, but indoor pools, hot tubs, saunas and such are not allowed to be open. In Nevada, businesses are allowed to provide lodging for leisure travel with health and safety protocols in place. Photo at right: Wikimedia Commons.
Vacation Rentals
Both the California and the Nevada sides of Lake Tahoe are open for leisure and tourism travel (on the California side, this applies if the travel is within 120 miles from home), so the vacation-rental market should be opening back up. But in California, anyone arriving in the state on non-essential travel is requested to self-quarantine for 10 days.