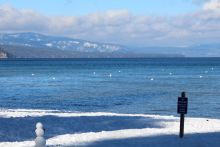 When aspen leaves glow golden against the azure sky and crisp nights come consistently in late autumn, palpable new energy fills the air in Tahoe City, one of the West's favorite ski towns. Winter sports gear comes out, ski swaps become standard weekend fare, and weather pundits are consumed with snowfall predictions, weather patterns and jet streams. Coffee shops along North Lake Boulevard are alive with season pass and job fair chatter, and then, in the blink of an eye, Indian Summer is a distant memory and it's winter in Tahoe City!
Suddenly the days are all about shredding miles of incomparable terrain, and nights are alive with fine food, great music and cozy gatherings by the firelight with friends. With average annual snow totals more than 400 inches at nearby resorts like Squaw Valley, Alpine Meadows and Homewood, as well as plentiful backcountry options, skiers and riders can explore endlessly all winter long. 
Nordic skiers will find 65 kilometers of groomed cross-country trails at nearby Tahoe XC, with a portion of the trail system also open to skiers and their dogs. Tahoe City Winter Sports Park, located just above downtown, features ice skating, sledding, snowshoeing, fat biking and cross-country skiing. Pets are also allowed here, so Fido can get in a great workout along with the family. With all of these winter sport options in and around Tahoe City, seasoned winter athletes and those experiencing snow for the first time can enjoy an amazing winter wonderland.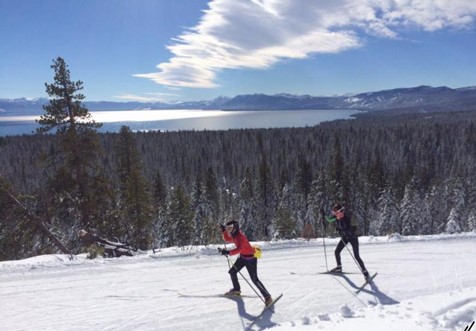 After working up an appetite in the snow, Tahoe City is replete with more than 50 fabulous eateries, ranging from fine-dining spots to casual longtime favorites to family-friendly options. The adult crowd needs venture no further than the cobblestone walkways of Tahoe City for a delightful and immersive après-ski scene. Whether you seek live music, a rousing game of pool or darts, cinema or a quiet cocktail overlooking Lake Tahoe, the choices are abundant.
Tahoe City is also a shopping mecca with something for everyone and every taste from the elaborate to the practical. Browse among sports gear and apparel stores plus numerous art galleries, museums, gift shops and a few hip thrift stores. Add in an afternoon of pottery painting in a creativity studio, and your day is complete.
While fun reigns all winter long in Tahoe City and anytime is a great time for a trip, consider visiting during SnowFest! the first week of March. This long-running winter carnival has been a part of the fabric and tradition of Tahoe since 1980 and includes hundreds of wacky and iconic events like parades, ski races, a polar bear swim and so much more.
No matter how or when you enjoy it, there is no place quite like Tahoe City in the wonderful wintertime.