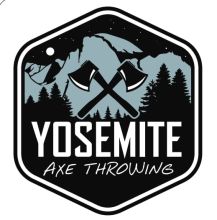 Axe Throwing in South Lake Tahoe 
Yosemite Axe Throwing is not your typical axe throwing facility. We are the only axe throwing company in the world that has and continues to use 100% deceased trees for our targets. They are salvaged from Timber that was lost due to drought, wildfire, and/or bark beetle. Pretty cool, right? Our guests get experience axe throwing on another level by using real log targets and not board. This is how real lumberjacks throw axes! 
Our South Lake Tahoe throwing location is open with 10 amazing throwing lanes in our beautifully constructed axe throwing facility on the south side of the beautiful Lake Tahoe. Each log was hand-selected and each board was hand milled by Nate, as he does at all his locations, because of his love for the outdoors, and the sport of axe throwing itself. He has set a high standard for all of his locations, to capture the true essence of the axe throwing as it was meant to be: surrounded by timber and thrown into real log targets.