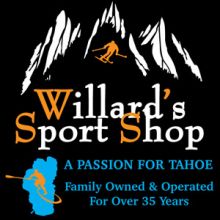 Willard's Sport Shop in Tahoe City and Lakeshore Sports in Kings Beach are owned and operated by a longtime Tahoe locals. The Willard family is a highly respected and beloved Tahoe retail staple.  Their team is comprised of outdoor experts that play hard year round in the Lake Tahoe region. You're guaranteed to get the best advice and tips for your technical gear purchases. In addition to winter sports equipment, they carry high-quality winter jackets, gloves, hats, goggles, eyewear and winter apparel featuring the top brands.
In the summer, the shop transitions to the ultimate summer recreation one-stop shop. The carry the latest and greatest premium stand up paddle boards and gear for hiking, biking and climbing. Willard's also carries everything you need for an awesome day at the beach.
If you're looking to rent equipment for your next winter or summer adventure, Willard's has you covered! They rent skis, snowboards and snowshoes in the winter and come summer, they rent stand up paddle boards, kayaks, bicycles and bike trailers.