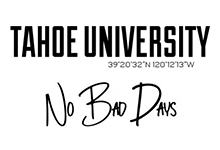 Quality Lifestyle Clothing in Truckee
Tahoe University was founded by cousins Erin Wilkinson, Sarah Bormann and Marne Bormann. They fell in love with the healing effects only a Tahoe lifestyle can bring, and dreamt up this experience to help you discover your unique Lake Tahoe story. 
Tahoe University's flagship brick & mortar boutique is family-friendly store and carries a unique assortment of one-of-a-kind lifestyle items to complement your Tahoe story, from women's apparel, yoga wear, furniture and home goods, kids clothing and much more. Our online shop is a small teaser of what we carry in-store.
No Bad Days.