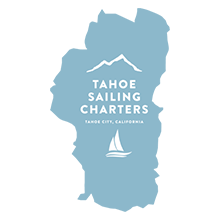 North Lake Tahoe's Premier Sailing Company
Tahoe Sailing Charters has been operating Lake Tahoe's premiere sailing charter operation since 2004. We are committed to providing a fun, safe experience for all who wish to enjoy the spectacular lake and mountain views. 
Daily Sailing Cruises
We offer three sailing cruises 7 days a week all summer long. Lake Tahoe offers a unique sailing area with a consistent afternoon breeze that creates a fantastic environment to highlight the performance of our 50' the Tahoe Cruz sailboat. 
Daily Private Charters
Available for up to 30 passengers, we offer afternoon and sunset private charters aboard our 50' Tahoe Cruz sailboat or aboard our 36' Tahoe Dreamer motor yacht Catamaran.
Weddings and Special Events
Are you planning a wedding or special event and want a fun way to get out on the lake? Private charters aboard our sailboat or motor yacht will provide an event you and your guests will be sure to remember for years to come!