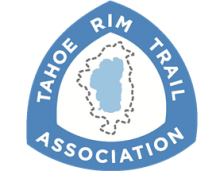 The Tahoe Rim Trail Association (TRTA) is a nonprofit 501©(3) organization formed in 1984 that is comprised of dedicated volunteers, board members, and a small paid staff. The TRTA, in partnership with the US Forest Service and Nevada State Parks, built the 180-mile Tahoe Rim Trail (TRT) and continues to build new trail as well as maintain and protect this spectacular, valuable public resource in the Lake Tahoe Basin that sees over 400,000 users annually.
Three decades later, TRTA volunteers continue to remain dedicated to efforts of preserving the Tahoe Rim Trail. Anywhere from 300-500 volunteers contribute over 15,000 volunteer hours annually to fulfill the mission of the TRTA: to maintain and enhanc the TRT system, practice and inspire stewardship and preserve access to the natural beauty of the Lake Tahoe region.
To accomplish its strategic goals the Association has two key programs: Trail Operations and Trail Education and Outreach.
Trail Operations annually recruits and manages 300-500 volunteers who in 2016 alone contributed more than 9,000 hours of volunteer service toward building and maintaining the TRT. Recent accomplishments include realigning the trail away from forest roads, increasing user safety, mitigating resource damage, constructing trail connections to large communities (such as Reno), and providing valuable volunteer training opportunities. These efforts focus on ensuring the trail is a safe, enjoyable, and sustainable.
The Trail Education and Outreach program hosts and supports a variety of opportunities to engage the local community in trail activities to foster an appreciation of the natural resources of the Tahoe Basin. This work helps to build and inspire the next generation of trail stewards who will appreciate and conserve public lands not only within the Tahoe Basin, but throughout the country. Programs are varied and include Youth Backcountry Camps, full moon hikes, and Trail Talks on a variety of trail-related subjects.