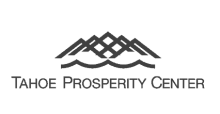 Tahoe Prosperity Center is an innovative nonprofit collaborative created to champion the prosperity initiatives identified for the Lake Tahoe Basin. 
We work regionally with local businesses, jurisdictions, non-profits, and community members to advance identified, data-driven initiatives that better the environment, community, and economy for everyone living and working in Tahoe. 
To make this beautiful region truly inclusive and prosperous, we are working to establish attainable workforce housing, job and training opportunities, reliable and robust internet, and a safe Basin equipped with fire safety cameras – all driven by locally focused, topical community indicators data.