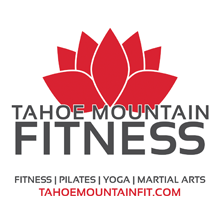 We are dedicated to offering efficient, effective & safe programs that are also innovative, unique & fun.
We are interested in giving you the ability to achieve your personal goals through the variety of effective classes we offer.  Whether you are set on increased muscle endurance, strength, agility, building power & a strong core, creating a more flexible physique, losing weight or simply to feel light and energetic- we have the classes for you.  Offering the best fitness, yoga, pilates & martial arts programs in the world, with uplifting music, a talented group of fitness coaches and a high-energy studio, you are walking into a well designed concoction of science & fun.  We offer passionate, compassionate and safe instruction to allow you to explore challenges & success.  Tahoe Mountain Fitness is a place not to be missed.
Not only to we create space for you to get physical, but we also encourage you to connect in on a much deeper level.  We believe through moving our bodies & building the best version of our external self, we can create an open door to the deeper sense of self.  We aspire to inspire the richness of you to unfold, to not only enhance your fitness experience but to greaten your life.  We encourage you to break down walls and push through personal boundaries.  We use the power of music & great coaching to unleash your pure potential- the truest sense of you.  And if you are looking for a more personal approach, our team of highly educated coaches are available for private and semi-private Personal Training Sessions, Pilates Private and Semi-Private Sessions.  We are also available for private Karate, Kickboxing & Yoga Sessions in Truckee and the Tahoe area.  
At Tahoe Mountain Fitness you will experience something different.  Something that no one else in the fitness industry is offering.
Tahoe Mountain Fitness is co-owned by Holly Hust & Jonathan Van Roo.  We are a family ran business.  We are here for you.  Our fabulous team of coaches are here for you.  From the first time you walk in the front door, you are considered family.  Join our family.  We are waiting for you.
Our Locations:
Tahoe Mountain Fitness Main
12047 Donner Pass Road
Suite B7
Truckee, CA 96161
Tahoe Mountain Fitness North
11890 Donner Pass Road
Suite 3
Truckee, CA 96161