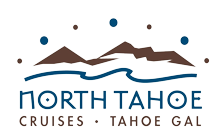 North Tahoe Cruises was established in 1977, as the first cruise line on the North Shore. The Tahoe Gal was built in LaCross, Wisconsin, by Skipperliner. She was shipped to us in three separate pieces, via eighteen wheeler, to Lake Tahoe.
The main deck was one large piece. The Pilot House and Commodore Salon, located on top of the Tahoe Gal, constituted the second and third pieces. After putting the two together, she went through a rigorous stability test conducted by the U.S. Coast Guard. This test was performed to establish how many passengers we could accommodate safely. The Tahoe Gal is sixty-four feet and two inches in length. Her beam is twenty feet. Her gross weight is thirty-eight tons. She can accommodate 120 guests. The Tahoe Gal was christened on July 8, 1994.
She is equipped with a full galley and bar. We offer exclusive charters for corporate meetings, dinners, weddings and cocktail cruises. A private room, the Commodore Salon, is perfect for small private parties and business meetings up to thirty people. The Commodore Salon may be rented on a regular cruise without the expense of chartering the entire vessel. Please feel free to contact us for information on exclusive charters or our regularly scheduled cruises. All Tahoe Gal cruises depart from Tahoe City, CA.