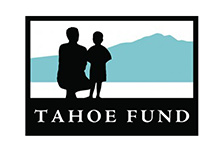 The Tahoe Fund was founded in 2010 as a registered non-profit corporation in the States of  Nevada and California. The purpose of the Tahoe Fund is to become a major source of private funding for environmental projects around the Lake Tahoe Basin with an emphasis on recreation, conservation and education.
The Tahoe Fund acts as a catalyst for bridging the funding gap. At the time the Tahoe Fund was established, there was and continues to be a gap between the existing environmental needs and the continued decline in public funding for Lake Tahoe. This kind of public-private collaboration sends an important message to the federal government and the state governments of California and Nevada that the private sector values and is financially committed to environmental restoration at Lake Tahoe, providing our political representatives the support they need for increased public funding.
The Tahoe Fund provides a common vision from which to build a sustainable future for this irreplaceable resource and for those who cherish and enjoy this mountain landscape. Lake Tahoe lies within two states, five counties and hosts an extensive network of local, state and federal agencies. Tahoe Fund programs directly benefit a population base of 53,000 full-time residents and 3 million annual visitors to the Basin.