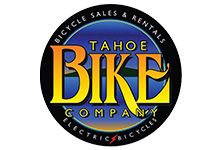 Tahoe Bike & Ski Company is a full service bike and ski shop located in downtown South Lake Tahoe, right along the bike path from Nevada's Casino's to California's Emerald Bay. 
 
We specialize in rentals and sales, repairs and fun, and have all the relevant merchandise and an experienced staff to assist you.
 
Our shop is located in the heart of one of South Lake Tahoe's most beautiful lakeside neighborhoods. "Lakeview", as it's known to locals, is home to Reagan Beach, with its grassy knolls and children's area, as well as the new Lakeview Commons, with its picnic tables and public grills. 
 
Whether its secluded beaches or forest paths, our friendly staff will help direct you where you want to go. We are ready to accommodate groups of any size. 
 
Thanks for checking us out. We hope to see you soon.