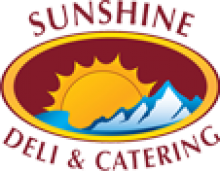 Please come in and try some of our delicious new recipes! We have free samples of all of our deli dishes! 
And don't worry,we are keeping our customers' favorite dishes as well! Our fresh-brewed coffee is always free, and breakfast is served all hours of operation.
Sunshine Deli & Catering is a specialty food shop & catering company in Incline Village, Lake Tahoe, NV. Our cozy cafe & bakery features a very unique lunch menu and one-of-a-kind entrees for take-out or dine-in that changes weekly. Our homemade selections include decadent pastries, hearty soups, baked pastas, creative sandwiches & wraps along with beautiful seasonal salads paired with dinner selections such as wild fish, homemade lasagnas, quiches, fresh vegetable dishes and much more. We serve coffee made by Kings Road, and offer a selection of beverages for your enjoyment or take-out selection. Sunshine offers full-service catering for all your events and all of our selections can be ordered ahead of time to provide all of your culinary needs for your next event, holiday or nightly dinner and dessert. Please call us and we will be more than happy to prepare your food and help you plan your event or dinner. Come see this local's secret favorite place to dine, Sunshine Deli & Catering. Phone: 775.832.CAKE.
The NEW dining room is open. Our renovations expand the previous dining room to over twice the previous size, and includes many tables, free wireless and a warming fireplace.
---