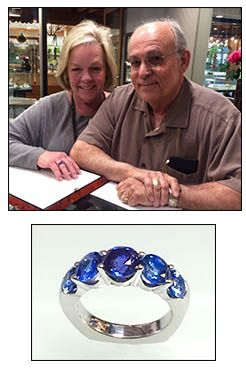 Meet the Mello's from Modesto/Reno
 
Judy wanted a tapered (5) stone multi-colored sapphire ring.  She chose a rare purple for the center, Ceylon blue for the middle color and a lighter blue for her outside color.  She chose "U" shaped shared prong crowns rather than standard to make a modern, heavier contemporary dramatic ring.
Here is what Rick & Judy have to say:
"It's always fun because you're a part of the process.  It's Beautiful! I love it and I'm thrilled, Thank you!"
- Judy Mello
---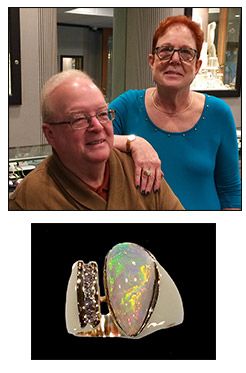 Meet Jim & Sheila Beane
"We've been coming from Houston Texas to Tahoe City for 15-20 years now and the trip wouldn't be the same without stopping here. We pick out original creations by Michael, not just any ol thing. I love what I get and he's done a lot of great things. You've done another pretty job like always."
- Sheila Beane
---
 Meet Margaret & George Wilson 
 "We simply loved working with Michael. The final design and craftsmanship is gorgeous. I'm in love with the ring!"
-The Wilsons