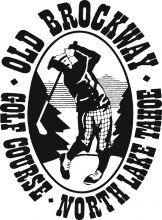 Historic Golf Course near Kings Beach, CA
Historic Old Brockway Golf Course near Kings Beach, CA on the shores of beautiful Lake Tahoe is a family-owned and operated 9-hole golf course rated one of the best in America. Located on the corner of Highway 267 and North Lake Boulevard, Old Brockway plays to 3400 yards of quality, serene golf with two par 5s, two par 3s and five par 4s – a total par of 36. Our friendly, welcoming staff, dedicated crew, and beautiful setting make Old Brockway a "Lake Tahoe Golfing Tradition," one you do not want to miss!
A Lake Tahoe Golf Tradition
Family owned and operated since 1978. Features towering Jeffery pines with majestic Sierra and Lake Tahoe views. Enjoy more than 3400 yards of quality golfing experience, including two par-5 holes. Classic golf course architecture from a bygone era features small greens and rewards accuracy. Built by Harry Comstock and designed by renowned Scottish architect John Duncan Dunn. Home of the 1st Bing Crosby Golf Tournament 1934-1935 and the first 9-hole golf course in America to become an Audubon cooperative sanctuary.