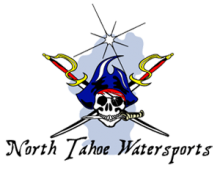 We are currently closed for the 2018 season. We will reopen in Summer 2019.
With 2 locations on the North Shore of Lake Tahoe, North Tahoe Watersports Inc. is your ideal choice for all your water-based activities. 
All of our captains are U.S. Coast Guard certified and have the latest parasailing training to help you get the most out of your water activities and we will spend as much time as necessary to teach you how to do them properly. 
Escape to an exciting outdoors excursion with the help of North Tahoe Watersports Inc. of Kings Beach, California. Our company offers a full selection of recreational water sports activities, including parasailing flights and personal watercraft rentals. 
You get to see the beauty of the Lake Tahoe from the ideal vantage point:  the water. Make your next day on the water even more fun with recreational water sports from our company in Kings Beach , California.