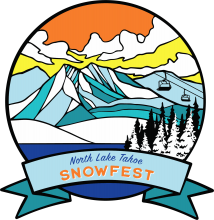 In the spring of 1981, Bob Everson, Marketing Director at Alpine Meadows Ski Resort, approached the Tahoe City Chamber of Commerce and the Visitors & Convention Bureau with the suggestion the North Tahoe Community host a winter carnival. In the early 80s, skiers visited Tahoe primarily during the months of December through February and missed the incredible snowpack that was available in March.
A meeting, to present the idea to interested community individuals was called late in June. Attendees at the meeting included the local service organizations, ski resorts, merchants and lodging property owners. The idea was received favorably and a second meeting was scheduled for mid-July. On July 4, Bob Everson was killed in a boating accident on Lake Tahoe. At the next meeting, it was determined that the community would move forward with an event called "SnowFest!" in honor of Everson.
The mission of SnowFest! was to promote Tahoe's incredible weather and skiing early in March, to encourage tourism to the area at a traditional off-season time of the year, and to provide an opportunity for the locals to get out and enjoy Tahoe at its winter's finest.