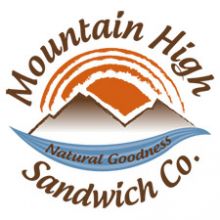 Temporarily Modified Hours: Daily 9:00 AM - 3:00 PM | Open for Takeout & Curbside Pickup
Mountain High Sandwich Co. is an all natural gourmet deli, emphasizing fresh healthy whole foods and a casual friendly environment.
The menu is consciously created, highlighting organic, local and seasonal ingredients. Our menu accommodates healthy lifestyles and food sensitivities, featuring, vegetarian, vegan and gluten-free dishes. Menu items include: unique sandwiches, healthy salads, thoughtful soups, wholesome grains, quick breakfast, cold-pressed juice, delicious sweets, freshly prepared grab-and-go selections and rotating local kombucha and beers on tap.
Mountain High Sandwich Co. supports sustainable agriculture, sustainable practices and environmentally friendly products.
All of our produce is organic or local.  We serve organic whole foods including vegetables, fruits, nuts & seeds, beans, cage-free eggs and thoughtfully raised natural meats.  Our disposable service ware and packaging are made from renewable plant based materials and are compostable including containers, cups, straws, utensils and takeout bags.
Thank you for your support!