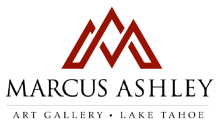 Lake Tahoe's Premier Art Gallery
Marcus Ashley Fine Art Gallery in South Lake Tahoe, CA, is known for representing a wide variety of American and international artists. The gallery is home to all types of exquisite fine art, from oil paintings and fine art prints to glass art, sculpture and contemporary pieces that almost defy categorization.
Marcus Ashley Gallery employs a dynamic team of artistically literate and knowledgeable consultants whose priority is to educate and assist both seasoned and new art collectors. We pride ourselves on offering impeccable service which includes custom framing, private home shows and worldwide shipping.