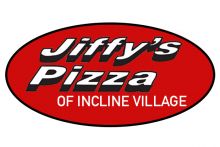 Pizza Shop in Incline Village, NV
Voted Best Pizza For A Reason!
Jiffy's Pizza & Homemade Ice Cream is a pizza shop in Incline Village, NV that has been serving North Lake Tahoe for more than 30 years. Jiffy's first opened in Tahoe Vista in 1988 serving N.Y. Style Thin Crust Pizza. It was owned and operated by a gentleman who went by the name Iffy. And was in fact called Iiffy's Pizza. Iffy was from N.Y. where his family owned and operated a pizza restaurant. He in turn brought the recipes we still use today. Mark Englund joined Iffy in the early 90's and bought a 50% stake in the business and the name changed to Jiffy's. Iffy left for a career selling timeshares in Cabo in 94. I purchased the business from Mark in 1997. I built a Tahoe City and Truckee location, both were eventually sold. My wife Kim and I opened our nicest store in Incline in 2016, adding the Homemade Ice Cream. We have been voted "Best Pizza" in the previous year. I have never changed the recipes as if it's not broken, no need to fix. We offer a simple menu with a selection of craft beers and wine. 
Ice Cream in Incline Village, NV
Our Homemade Ice Cream is the best in the Tahoe Basin and Reno area. I make it onsite with the industry-leading Emery Thompson Ice Cream machine using a 14% Butterfat ice cream mix purchased from a local dairy. Slow churned at 185 RPM's, with only the highest quality ingredients. Richest Creamiest Ice Cream ever. It just is. There I said it! Kim and I tried as many craft homemade Ice Cram stores as we could find searching for a starting point. A friend from Sacramento told us to try Gunther's Ice Cream, located in old town Sacramento. We found their product was the best of the 5 or 6 we tried.  The Manager was so generous to give me a helping hand up getting my product close to what they offered.
We are a simple little pizza place with great N.Y. Style Pizza and to die for Homemade Ice Cream. Come by and have a pizza, beer, and ice cream for the kids. Covid distancing and a comfortable dining area with good quality music and Large TVs for watching a game. Very comfortable setting for a great pizza dining experience. Delivery and Dine-in are other options also available.
Thanks, and have a great time visiting the North Shore of beautiful Lake Tahoe!