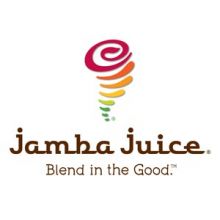 Jamba Juice started out as a little juice shop with a big idea - that healthy living starts locally. We've made it our purpose to infuse that thought into everything we do.
Our juices, smoothies and bowls are made with high quality, good-for-you ingredients, supplying 250 million servings of fruits and vegetables a year. That's over 249,999,990 more than the daily recommendation.
In Addition to our smoothies and juices Jamba Juice also serves steel cut oatmeal, acai bowls, breakfast wraps, flatbreads, sandwiches and more.
Stop on in to our South Lake Tahoe Jamba Juice store and Blend In The Good.
We also have a location at 921 Topsy Lane in Carson City that is ready to serve you when you are down the hill.