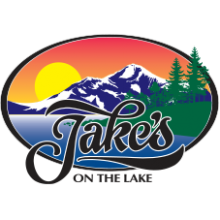 ---
Family owned and operated since 1978, Jake's On The Lake is the ultimate waterfront dining experience in Lake Tahoe! Soak in spectacular views of the lake and enjoy a flavorsome meal while we treat you to our warm "mountain aloha" hospitality. Featuring an abundant variety of fresh seafood, quality meats, and seasonal produce our menu is inspired by Californian and Hawaiian flavors. Wherever possible we choose local and sustainable ingredients.
What is "mountain aloha"?
Aloha is the Hawaiian word for love and is often used as a greeting or farewell. Mountain aloha speaks to our Hawaiian roots. It also speaks of our love for the mountains and Lake Tahoe's incredible environment. We live and work in one of nature's most spectacular playgrounds. Let us share our mountain aloha with you!
What are our Hawaiian roots?
Our Hawaiian roots refer to our former association with TS Restaurants. TS Restaurants operate a limited number of high quality restaurants in California and Hawaii.
We look forward to welcoming you with mountain aloha soon!