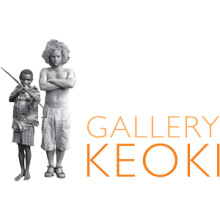 Keoki Flagg is an awarded world-renowned fine art and adventure photographer. His iconic images are curated in seven collections:  Tahoe, World Adventure, Patrol Dogs, Elemental Hawaii, Another Perspective, Warren Miller (ski movies) and his Private Collection.
Gallery Keoki features exclusively Keoki Flagg photography in a beautiful studio located in Squaw Valley.  All limited-edition images are built to order, so the gallery features a range of sizes including standard format, panoramas, multi panel and multi plane options. All images are also available in gift sizes as prints on metal. Gallery Keoki specializes in finding an original perspective to visually define your spaces to embody your identity and to inspire and resonate.
Every one of Keoki's images is presented through the photographic emulsion process on light responsive Fuji Crystal Archive Pearl paper.  The image is bonded behind ¼ inch optical grade acrylic, then sealed to archival diabond.  It is then mounted on a 1.5-inch recessed sub-frame,  allowing it to  "float" off the wall  adding a three-dimensional aspect to the viewing experience. This media is called a "Face Mount".