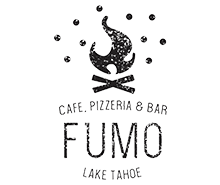 Walking into Fumo Cafe, Pizzeria & Bar in Incline Village welcomes you to a bright, open feel with big windows letting in lots of light during the day. In the warmer months you can dine on the patio out front and feel the breeze coming off Lake Tahoe. It is also a great dog-friendly spot for friendly dogs.
From the kitchen, you will experience authentic East Coast style pizza prepared in one of the few brick ovens on the lake. For you pizza aficionados, Fumo's only graces its freshly made crust with the finest ingredients including Grande Mozzarella from Wisconsin and San Marzano tomatoes. The selection will include all the traditional classics as well as a handful of specialty pizzas.
Delivery is available for all of Incline Village areas from 5:00 p.m. to 9:00 p.m.