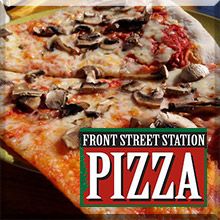 JULY 2015: VOTED TOP 10 SKI TOWN PIZZA JOINT IN THE UNITED STATES
Since 2004, Front Street Pizza Station has been a Tahoe City tradition for both locals and visitors. Owners Kurt Hyatt and Mary Ellen Hyatt take exceptional pride in serving some of Tahoe's very best, handcrafted food. Kurt and Mare', in addition to their wonderful staff, are dedicated to satisfying your palate with the freshest and most delicious ingredients.
 
Front Street Station's warm and welcoming log cabin structure, on the banks of the Truckee River, offers tranquil views and a cozy neighborhood feel. Everyone LOVES the New York-style pizza and craves the authentic Mexican specialties and mouth-watering sandwiches.
 
We invite you to experience Front Street Station today - and thank you!