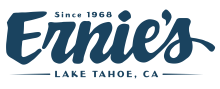 Breakfast & Lunch in South Lake Tahoe, CA
With more than 50 years in operation, this American-style breakfast and lunch diner has become a popular institution for locals and visitors of South Lake Tahoe. Established in 1968, Ernie's is known for quality food and friendly customer service. This cozy coffee shop has a large, mountain-inspired dining room and an outdoor patio for the summer season. Throughout the years, it has remained a locally owned and family-operated business that stays true to the past while adjusting the menu to reflect the discerning tastes of its customers.
When you come, try one of their many homemade recipes and specialty offerings ranging from traditional biscuits and gravy to creative tofu scrambles. The kitchen serves up delicious Mexican-inspired entrees like the mollete and a unique spin on huevos rancheros. For lunch, the Avocosmic Burger and the grilled Montana Turkey sandwich are favorites among the regulars. The menu has a little something for everyone, offering vegan dishes, gluten-free options, kid-friendly entrees, traditional espresso drinks and fresh-squeezed orange juice mimosas.
Ernie's is open every day, and breakfast and lunch are served all day long.