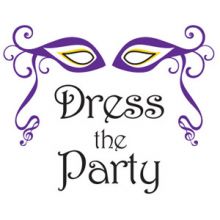 Dress the Party is moving online! Farewell for now to our Brick-and-Mortar Shop in Truckee as of February 26th! 
Huge blow out sales until we close. Every week more and more great discounts!
Use this opportunity to buy that outfit or costume you've been craving. There are many occasions in the Tahoe area to dress up in costume for parties, events and celebrations, from themed pub-crawls to the annual Burning Man celebration. Costumes range from basic prepackaged options to extravagant creations. Ball gowns and tuxedos are on the racks as is a wide variety of clothing in vintage and contemporary styles. The most fun might be to let your creative juices flow and build your ensemble as you wander through the store, selecting an outfit, a mask and the perfect hat to bring it all together. You'll also find all the jewelry and accessories you need, including a large selection of professional makeup, exotic eyelashes, temporary tattoos, hats, faux weapons and wigs of every variety.
Not feeling inspired? Leave it in their hands and the expert staff at Dress the Party will help transform your look in time for the party that's just around the corner.