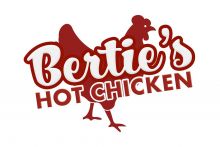 Bertie's Hot Chicken is dedicated to always delivering the highest quality, freshest and most flavorful fried chicken. 
In addition to the quality of our chicken all our sauces, dressings and spice blends are made in house.
Quality is something we take very seriously and it's something we will not compromise on.
Bertie's Hot Chicken is a personal passion of founder Rick Boyd. A native East Texan with roots in the deep South his love of fried chicken began early in his life. Cast iron skillets bubbling away with breaded cuts of fresh chicken from their own farm were what Sundays were all about.
As Rick grew older he developed a taste for the spicier things in life and Nashville Hot Chicken was the dish that quelled his craving. It's his passion for great fried chicken as well as a love of spicy food that he brings to you now. 
The perfect blend of sweet and heat, Bertie's Hot Chicken is something you'll find yourself dreaming about. You're welcome.