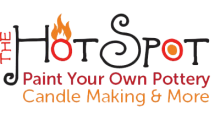 Get Crafty & Make Memories in Tahoe City, CA
You don't have to be a Monet to create a Masterpiece! Formerly All Fired Up, The Hot Spot offers an array of fun & unique projects and crafts. From pottery painting to chunky candle making, our drop-in studio is fantastic for creating heartfelt gifts and everlasting memories. 
Pottery & Canvas Painting
Choose your pottery piece or your canvas size, grab your paints and get crafty! Find inspiration through our stencils, stamps, idea books, etc. 
Candle Making, Mosaics & Garden Art
Build chunky colorful candles, dabble in the ancient art of mosaics and or create your very own fairy garden! 
Our friendly and artistic staff is always here to guide you. The Hot Spot is not just for the kids! Great for: Bridal/Weddings, Birthdays, Friend & Family Gatherings, Office Parties, Mom's Groups, Team Building & more!