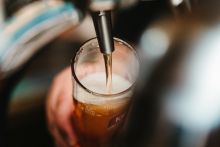 We'll Help You Find Your Favorite Truckee Brewery
Truckee has a nice little craft beer scene. It's no Reno or Portland, mind you, where there seems to be a brewery on every corner, but Truckee can hold its own with three quality breweries.
What makes a Truckee brewery a favorite is a subjective matter, of course. Some people go for the taste and quality of the beer alone, while others place as much importance on the food as the beer. For some, a lively social experience tops both the beer and the food.
FiftyFifty Brewing's Truckee Pub & Pilot Brewery is a place for serious beer lovers. They brew a full spectrum of beers for every palate, and there are always 16 beers on tap. From lighter blondes and ales to hoppier IPAs and rich stouts and porters, the brewers at FiftyFifty are known to stretch out. Their most well-known brew is Eclipse, an imperial stout that's aged in oak bourbon barrels. This microbrewery is also a restaurant serving a menu of pub-inspired foods that pair well with their beers, including pizza, calzones, salads and burgers. 
Another impressive Truckee brewery is Alibi Ale Works' Truckee Public House. Alibi Ale Works brews its beer in Incline Village, producing a wide range of beers with pure Lake Tahoe water. Their lineup includes traditional European styles, super-fresh hoppy beers and experimental one-offs. Their Truckee Public House opened in historic downtown in 2017, and they occasionally brew a beer here. They have 22 rotating Alibi beers on tap, plus wine and nonalcoholic options. They also offer a no-frills small bites and nachos menu, events and live music. This is a popular après spot. 
Truckee Brewing Company offers more than 16 beers on tap. Their focus is on high-quality, drinkable beer and an atmosphere that is conducive to hanging out. Look for various IPAs (including flavors such as East Coast, West Coast and Double IPA), delectable pale ales, a unique Peach Strawberry Sour, an oatmeal stout and many more. They do not serve food.
The Good Wolf Brewing Company is coming soon to the Truckee brewery scene, so be on the lookout for that one.
Not a Truckee Brewery, But a Good Place to Drink Local Beer
Here are a few more places around Truckee that are committed to serving quality craft beer even though they are not Truckee breweries per se.
Mellow Fellow in downtown Truckee has 40 American craft beers and two hard ciders on tap, and the rotation is constantly changing. The restaurant serves locally made sausages, sandwiches and snacks. Old Town Tap is committed to serving top-notch beer on its 16 taps. Plus they have 12 taps and a menu of snacks and shareables with a focus on serving local fare. Philosophy is a bar and restaurant that is committed to serving local beers on tap. Their 14 tap handles are dedicated to brewers in Northern California and Nevada.
Many more Truckee restaurants and bars serve Tahoe-brewed beers, and there are many more breweries all around the lake. Click here for a full list of Tahoe-area breweries and bars.