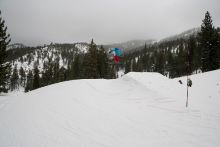 Squaw Valley is one of the world's most recognized names in skiing. Hosting the 1960 Winter Olympics, the first to be televised live, put Squaw Valley on the map as a premier skiing destination and made the area a household name. It is known for its long, steep runs, which attract the best skiers and snowboarders in the world, for its wealth of facilities for every level of skier and for its famous Squaw Valley weather – with more than 300 days of sunny, cloudless days a year and more than 450 inches of pristine snowfall every winter.
In 1956 Squaw Valley was a small, struggling resort with minimal facilities, so many people were surprised when the International Olympic Committee chose it to host the 1960 Winter Olympic games. Visionaries recognized the area's potential due to a few factors, one of which was the renowned Squaw Valley weather. They also pitched Squaw as a blank canvas of an unspoiled environment where a world-class ski resort could be constructed. From 1956 to 1960, the Olympic venues were built at a cost of $80 million, creating an intimate and charming village setting in which athletes and spectators could walk between events.
Today Squaw Valley Resort, which is based in Olympic Valley, California, on the northwest quadrant of Lake Tahoe, has grown into one of the largest ski areas in the United States, offering 3,600 acres and 30 chair lifts. It joined forces with the neighboring Alpine Meadows Resort in 2012, and the two resorts offer access to 6,200 acres, 43 lifts and more than 270 trails, attracting more than 800,000 skiers a year in recent years. A 2010 renovation brought $70 million in renovations to the Squaw Valley Alpine Meadows.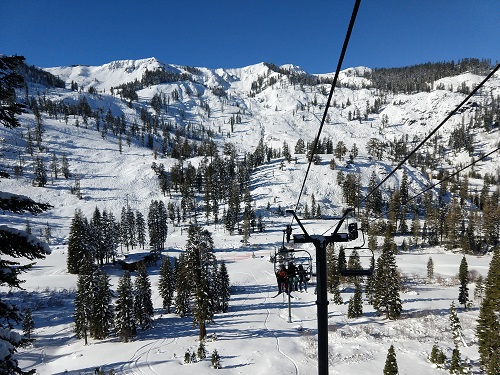 Photo: Alpine Meadows, Tahoe.com Facebook
Squaw Valley Weather Is Perfect for Winter Sports
Squaw Valley weather reports predict hundreds of inches of pristine snowfall every winter, creating the perfect conditions for winter sports and activities like skiing and snowboarding, backcountry and cross-country skiing, snowshoeing, tubing, sledding and even fat-tire biking.
While the ski season extends from November to May, the most naturally occurring powder graces the trails, pipes, bowls and terrain parks in January, February and March. The ski season stretches well into spring, typically closing around Memorial Day. However, in 2019, a record-breaking snow season with 596 inches for the season, Squaw Valley Alpine Meadows was open for skiing until July 7! February 2019 saw 315 inches, the most snowfall the resorts have ever seen in one month since January 2017's 282 inches. Weather data trackers say skiers can expect at least one to two snowfall days per week and at least three or four days of sunshine in the winter months. In December, January and February, temperatures range from average highs of 38 to 41 degrees Fahrenheit to average lows of 16 to 17 degrees. In March and April, temperatures are a little warmer, averaging in the upper 40s and lower 20s.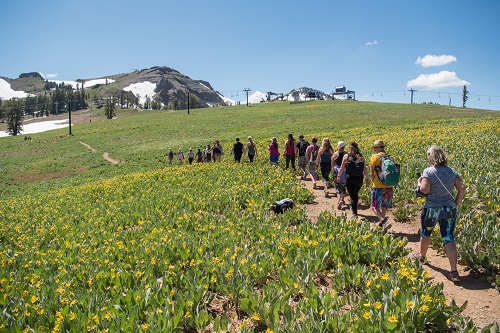 Photo: Wanderlust Squaw Valley Facebook
Squaw Valley Weather is Nice in Summer Too
Visitors come in summer to enjoy the warmer Squaw Valley weather, with the best months to visit being late June through September. July and August see average highs of 75 degrees Fahrenheit and average lows of 43 degrees. September brings highs around 68 and lows around 43. There are only a couple of precipitation days each month in summer.
So what do people like to do in this beautiful Squaw Valley weather in summer? There is a wealth of summer activities in Squaw Valley. Mountain biking is popular with those who have legs of steel to get them up the steep trails. Hiking is more accessible to the general population and therefore a common activity. People also enjoy golf and fishing. The city center at the Village at Squaw Valley offers bars, breweries, restaurants, shops, mini-golf, a climbing wall, bungee jumping and more. One of the most fun things to do in Squaw Valley Alpine Meadows in summer is to take the aerial tram to High Camp (8,200' above sea level), a mountaintop playground where there's a swimming pool, hot tub, disc golf, lawn games, trails and all kinds of fun activities and a bar/restaurant. Yoga and wellness enthusiasts come to Squaw every year for Wanderlust Squaw Valley. 
As you can see, there are fun things to do in the gorgeous Squaw Valley weather all year round. Check our Squaw Valley Things to Do, Restaurants, Shopping and Places to Stay to learn about all of it.