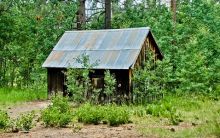 Lake Tahoe often conjures images of tall douglas firs, evergreens that keep the the crystal clear lake company year round with their green, glowing branches. But Tahoe is also home to many aspen groves, which change from green to orange to yellow during the fall months. These groves provide beautiful backdrops for landscape photographers and amateurs alike.
 
When to Take Fall Photos?
Late October would be the best time to come out for some autumn photography. But Old Man Winter has been pretty unpredictable lately. Any later than mid-November and you're running into possible snow.
 
Spooner Lake
This region is a central location when it comes to cross-country skiing and outdoor access to great features like the Flume Trail and backcountry cabins for serious getaways. It's also a great place to witness the change in seasons. Spooner Lake is located just at the junction of Highway 50 and Interstate 20.
 
Fallen Leaf Lake
There's a reason they call it Fallen Leaf. Fallen Leaf Lake itself is a little gem, often lost in the shadow of Tahoe's popularity. A half-mile north of Camp Richardson is a left turn onto Fallen Leaf Lake Road. After another half-mile, there's a campground entrance on the right. Then veer to the left, and follow the Day Visitors signs before parking. Be careful to park on the roadside, not in someone's campsite! Then it's a short walk (2-3 minutes) on a well-marked dirt trail to the beach. Dogs are welcome.
 
Emerald Bay
Perhaps the most photogenic place on the planet, Emerald Bay is a hotspot for photography year round, but if you step off the beaten path you should find some nice aspen groves changing color during the fall months. Emerald Bay is located just off Highway 89 between DL Bliss State Park and South Lake Tahoe. While you're here, check out the Vikingsholm. Vikingsholm may be the most extraordinary structure ever built in the Tahoe region. Built by hand, from the foundation to the hand-crafted metal fixtures, this home is a testament to 20th-century ingenuity. Each summer visitors can tour the home of the late Ms. Lora Josephine Knight.
 
Hope Valley
Hope Valley is on the south side of Highway 88 at Blue Lakes Road, 5 miles east of Carson Pass and 2 miles west of Picketts Junction (highways 88 and 89) in Alpine County. This beautiful valley is a great retreat from the hustle and bustle that is South Shore. Bring a camera, a friend and enjoy everything this small community has to offer.