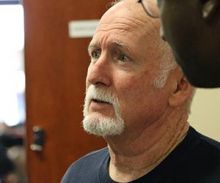 What do you desire most as you progress through life?
Are good health and serene stillness on that list?
As our years progress, there is one thing that rings true: Creating a healthier body creates a happier life. How to engage that happiest, healthiest self with the passing of time is one of the most important life lessons.
That's why I was excited to meet with Lake Tahoe resident Mark Shuey, an expert in the field of graceful aging. With a fun-loving and engaging personality, he exemplifies vibrancy. Now 70, he's been a professional in martial arts for 50 years and is a shining example of how actively engaging in wellness practices makes growing old a beautiful thing.
Shuey owns and operates Cane Masters, a martial arts program that he created 22 years ago. The unique health and wellness practice assists in increasing strength, flexibility and overall health by incorporating the use of a cane. The cane also plays a role in protection, as for some it is readily available at all times.
In fact, it was elderly women with canes who initially showed him this goldmine of health and wellness. "When I first started this I stumbled onto a new aspect of an ancient practice. The whole thing started over two decades ago, when I was visiting my brother in Palm Springs, California. While I was visiting, three ladies over the age of 70 were brutally attacked but were able to fight back because two had canes."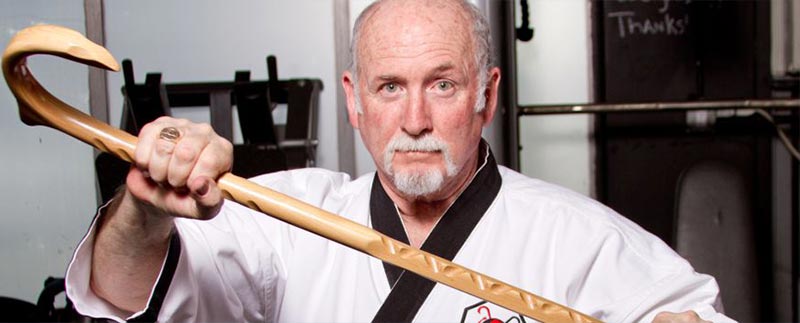 Shuey was studying Hapkido at the time, along with three other martial arts, and was learning the cane. He discovered that there were no martial arts systems specifically for the cane. "This amazed me, because the martial arts pride themselves on taking tools and making them into weapons. The cane is 5,000 years old and no one – especially when it came to the crook cane – had started a system. So I was able to put a system together on the cane, on the crook cane specifically, and I was able to find my niche in the martial arts."
Creating a martial arts system that incorporated the cane was a life changer for Shuey. His own abilities within the martial arts world began to escalate. "I loved to compete. I was a fighter, one of the Chuck Norris system guys and I competed for many years."
The problem was that Shuey couldn't find any fighting canes. At the time he was a general contractor with 91 employees and he loved to work with wood, so he starting making his own fighting canes. And he kept practicing his martial art with them.
"Not to brag," he says, "but I became number one in the world for four years in the Master's Weapons Division. And that's at 50 years old. I was pretty hard to beat. I took eight grand championships, going against 20 and 30 year olds. It changed my whole martial arts life. That, the cane and yoga changed my life completely."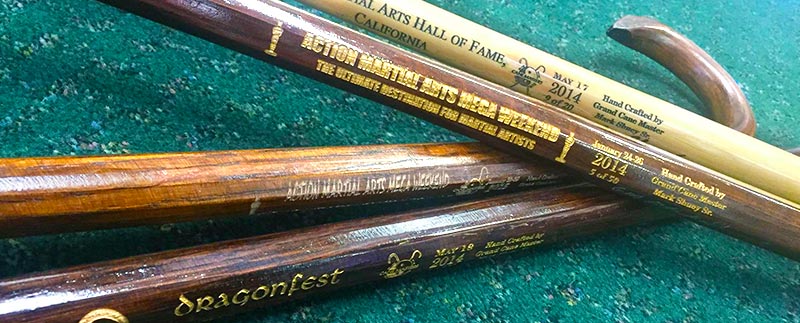 After that Shuey dedicated his life to incorporating these different ways of increasing health, including yoga. "When I started in martial arts, I couldn't get my feet two feet apart. I didn't start until I was 22. I had just gotten out of the Army and my first goal was to get flexible. I've been doing yoga now for about 40 years and it changed me into a well-balanced and focused person. And how many people who are 70 years old can do the full splits?"
Through combining yoga and the Cane Masters system, Shuey has found immense benefit. "Yoga, to me, is breathing. That's the main part of yoga. I do a lot of pranayama, which I believe keeps you healthy, but it's the yoga, the balancing techniques you do in yoga, that really help in the martial arts and being able to focus on one thing. When I started getting good, I had TV cameras on me all the time and people doing this and doing that. I found I could focus on what I was doing and couldn't be interrupted. It's kind of neat."
Five decades into sharing this impressive modality of health, Shuey is seeing a huge amount of benefit for those reaching the elderly ages. "I have designed a complete exercise and rehabilitation system with the cane," he explains. "You can exercise standing, sitting or lying down. I get calls every day, especially from people who have diabetes and are older than 70, who lose their balance. The cane gets their balance back. People tell me all the time, they've lost 35, 40 pounds in a couple months' time because instead of sitting in front of a TV eating cheesecakes, they exercise. It's helping so many people get their balance back."
Shuey says that while he started the program as self-defense technique, when he started going around to senior citizen groups, they weren't strong enough to do much with the cane, so he had to design a complete exercise system to get them strong.
"In that, I also created the rehabilitation program that narrows the focus to one joint at a time or whatever your ailment is," he says "The cane can fix it. The cane with an exercise band, with two straps on it, two handles, is like a complete gym. You can do all the exercises standing, sitting or lying down. It's literally like carrying around a gym. It's amazing how many people it's helping."
Shuey makes his classes easily accessible for anyone in the world. "I have a virtual dojo now.  Anybody in the world who has internet can get on my virtual dojo site (canemastersdojo.com) and increase their wellness. I have about six DVDs on yoga, plus I do videos probably twice a month, just on yoga, plus a plethora of Cane Masters classes."
To help embody the beauty of the cane even more, Shuey has taken his creation to another level by making each one a piece of art. He's found that combining health and beauty is inspirational. "I have a wood carver who carves dragons or horse heads or wolves or dolphins onto the cane. Whatever you're into, we can put on the cane. I started doing that so that each person feels a piece of themselves in the cane, something they like. Because then it won't be a cane or a crutch anymore, it'll be a conversation piece or a work of art."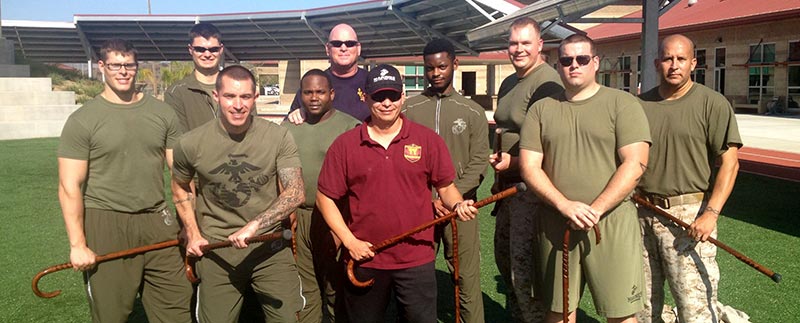 Shuey takes this beautiful modality of health on the road, touring around the country spreading the word. Within his travels he is reaching out to as many people as possible, including veterans of war. "I'll be doing a hall of fame event in California, where I'll be teaching veterans. We have a program, a 501(c), that is based on donations and we have helped more than 900 disabled veterans so far. We give them a free $200 cane and three hours of lessons on how to use it."
When it comes to health and aging, Shuey is an example of the positivity that awaits us if we so desire. And how it is easier when we combine it with the beauty of a cane.
To learn more about Mark Shuey's tour dates around the country, his online offerings or his classes here in Lake Tahoe, please visit his website at canemastersdojo.com.
---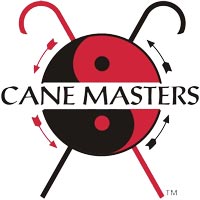 (800) 422-2263
Can Master
Brought to you by the Tahoe Regional Planning Agency
868 Tahoe Blvd, #21
Incline Village, Nevada