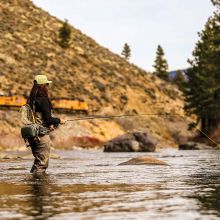 Tucked between Drink Coffee Do Stuff and Mountain Home Center on Donner Pass Road in the heart of bustling Downtown Truckee, Trout Creek Outfitters fly-fishing shop awaits people who want to talk about all things angling. The store, which opened in June 2020 at the height of the pandemic, has been doing amazingly well as locals and visitors opt to spend more time outdoors. 
"The town has needed this for quite some time," says Miles Zimmerman, co-founder of Trout Creek Outfitters. "This is the piece that the local fly-fishing community has been missing."
Trout Creek Outfitters, aka TCO, is a specialized shop that appeals to both experienced local anglers and weekend warriors, emphasizing customer service and matching people with the appropriate products. Now with a year under its belt, TCO is also focused on strengthening its ties within the community. For instance, they help teach a class for Forest Charter School students on wildlife and entomology in the Tahoe area and what it takes to maintain a healthy ecosystem.
Zimmerman and co-founder Scotty Koper met while working together at a local hardware store and over the years talked about opening their own shop. 
Zimmerman says that between his experience of working in the fly-fishing department at the hardware store and seeing how customers interact with the staff (or don't) at big box outdoor retailers, he got to thinking about what he would do to improve the retail experience for fly anglers of all abilities.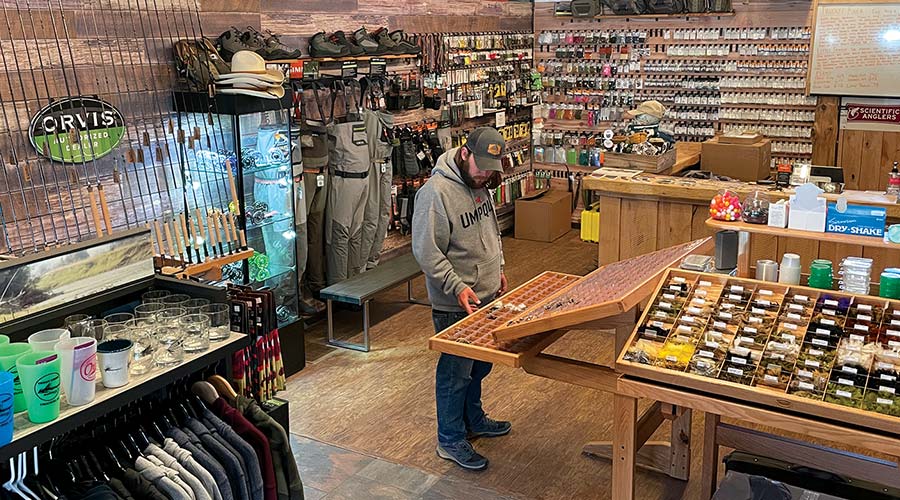 "I wanted to take all the best parts of other fly shops and utilize them in my own space," he says. 
Now that his dream of owning a specialty fly-fishing shop has come true, he says he sometimes has to pinch himself to make sure it's real. 
Trout Creek Outfitters likes to emphasize the health benefits of fly-fishing, one of the most notable being the immersion in nature. 
Fly-fishing in the Tahoe-Truckee area can also be difficult, depending on where you go, the time of the year you fish and how many other people are fishing the same waters.  
"Tahoe is an amazing place to fish, but it's challenging," Koper says. "The Truckee River is gorgeous and it's an awesome fishery, but it's tricky. It is actually nicknamed 'The Toughie' or 'The Tricky. ' But that's what makes it so rewarding."


The fish are also smart.
"A lot of the wild trout in the area know us because we've caught and released them before," Koper says with a smile, explaining that he often has to utilize different techniques to catch the fish. 
"That saying, 'Life is what you make of it' totally applies to fly-fishing and hanging out on the river," he says.
Koper's favorite place to fish is where he grew up in Glenshire because he believes that it's the most accessible and family-friendly area, but he says anywhere on the Truckee and Little Truckee is good. "On the river after the Hirschdale exit to the Nevada state line along I-80, there's bigger water, bigger flows and bigger fish," he adds.
"There's a saying that trout don't live in ugly places," Zimmerman says.  
The owners' passion for fishing makes Trout Creek Outfitters the best place to go for a current fishing report, which can be found on their website. When asked how often they fish, both Zimmerman and Koper say "as much as possible." It helps that their shop is so close to the Truckee River.
"When the days get longer, we'll close up shop, cross over the train tracks and go fish the river behind the shop," Zimmerman says. "We want to live that lifestyle, and it gives us intimate knowledge of the river on a daily basis." 
Since their summer of 2020 opening, Zimmerman believes Trout Creek Outfitters has helped countless anglers get into the sport of fly-fishing. 
"There is a learning curve with fly-fishing, it's not something you can just go out and do," he says. "And it's something you can always get better at. A lot of other places sell the equipment, but we have the service to go with it."
With their focus on helping people of all abilities get better at fly-fishing, educating the community on the importance of maintaining the environment and keeping Tahoe/Truckee waters clean and the trout wild, Trout Creek Outfitters acts as a conduit for everything fly-fishing in the area. 
"Fly-fishing has been a vessel to get outside and enjoy nature," Zimmerman says. "Every time I go out on the river, I feel like a kid again."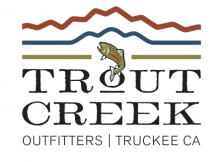 (530) 563-5119
10115 Donner Pass Road, Truckee, CA