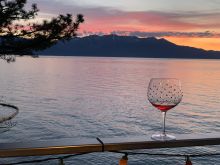 Lake Tahoe is all about one-of-a-kind experiences. The lake itself is the largest alpine lake in North America, and it's the second-deepest lake in the United States. The Winter Olympics were held here in 1960. Back in the day, the showrooms were the haunts of Elvis and Sinatra, and even today spotting a celebrity about town is hardly an unusual occurrence. The litany of facts and features about the Lake of the Sky and our own little corner of heaven go on and on. The indisputable point is that to experience Tahoe is to experience something pretty special.
When you're here, you want to enjoy those places that match Tahoe's unique and sublime vibe. Whether you're spending your downtime relaxing with a few friends or perhaps celebrating the most important day of your life with all of your loved ones, you want a place where you can enjoy Tahoe to the fullest.
Welcome to The Idle Hour.
The Idle Hour is a wine bar, a tasting room with a small bites menu and a retail shop. To top it all off, it's a lakefront special events venue. In other words, The Idle Hour is Tahoe through and through.
While there are a number of bars in town that offer a place for a relaxed sip of wine, beer or champagne, few can combine that experience with the stunning views and friendly setting of The Idle Hour. Fireplaces and soft, cuddly sherpa blankets make for a warm, cozy afternoon among the local art, incredible wine selection and inviting atmosphere designed by the owner Karen Walsh.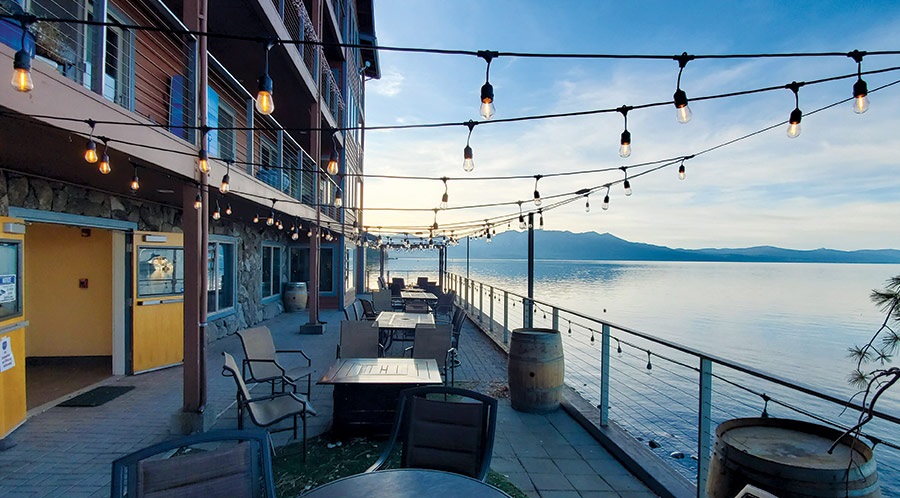 In any weather, the fire pits outside can be your gathering point for a High Sierra evening. The patio and decks provide stunning views of Big Blue, looking north across the lake to the rim of the basin. After all, you come to Lake Tahoe to savor views like these!
You don't have to be a wine expert to enjoy a drink here because the staff will be happy to give ideas and suggestions, and they may point you in the direction of a small-batch wine such as Bella Grace, Rancho Sisquoc or Niner. There's even Silver Oak by the glass. Check out The Idle Hour's event calendar for special tastings or to time your visit with live music in the lounge. And after a drink and small bite here, be sure to browse the retail shop for home decor, wine-themed gifts and more.
But if you'll remember, The Idle Hour isn't just a fine spot for a drink.
As rare as it is to find a nice wine bar on the lake, it can be harder yet to locate just the right event space for that certain special day, whether it's a shower, reception, party or some other event of a lifetime. You need not only a spectacular venue, but also an experienced planner and staff to make sure the whole thing goes off smoothly. Again, The Idle Hour fits the bill.
Right on Lake Tahoe Boulevard, The Idle Hour is in a spot conveniently located to any and every other location on the South Shore. Plus, the event staff has years of experience to handle the party or event from beginning to end.
This Idle Hour offers not just one but two venues for your get-together, including the lounge and tasting bar or the terrace and event space. If your big day takes place during the summer months, there's room here for up to 150 people. Ensure success by contacting The Idle Hour's event coordinator to see what will work best for you.
Tahoe is a special place. And The Idle Hour helps to make it that way.
The Idle Hour Wine & Bubbly Bar
3351 Lake Tahoe Boulevard, South Lake Tahoe, CA
(530) 600-3304
TheIdleHourLakeTahoe.com