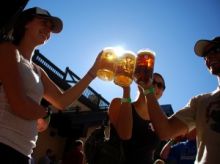 Lake Tahoe's Spring Break scene is hot! Between the exotic nightlife, sandy beaches and picturesque outdoors, you may not find time to sleep.  But if you do, be sure to plan your trip with friends and get an affordable group rate at one of the world-class Tahoe hotels or vacation rentals.
Sleep is overrated, especially when the rowdiest terrain is waiting to be tamed. Spring break means rail jams and beach-side barbeques. Skiers and riders hit the mountains of South Shore Lake Tahoe for spring break where they can soak in the sunshine and then show off their stunts on the kickers and rails. Off the mountain, they get even wilder with non-stop nightlife and partying including live shows! Check out our events calendar for updates on these and other events.
Don't forget to take a day to hit the hiking trails. Springtime means rushing waterfalls in the Tahoe area. 
Where else can you wear your bikini, win big at the casinos and strap on your snowboard in the same day? Lake Tahoe! Check out these five great Lake Tahoe spring break ideas to go big and make the most of your time in Lake Tahoe, whether you go to the mountains, enjoy the nightlife or hit the trails! 
Go Skiing in the morning then tailgate in the afternoon
Lake Tahoe has some of the best skiing and snowboarding in the world, so there's no question there. You should slap on a pair of skis or snowboard and hit the slope. But before you grab a spot on the chairlift, stick your refreshments in the snow and end the day with some burgers and ice-cold drinks. Don't forget the lawn chairs.
Get a group of friends together, pool some money and rent a cabin
Lake Tahoe lodging and accommodations offer something for everyone. Lake Tahoe vacation rentals are great for extended stays and for anyone looking for amenities like full kitchens, private hot tubs and expanded living space. Relax every night in the hot tub. Bring the BBQ back out and enjoy a nice view of the lake.
Go moonlight snowshoeing
Had a rough morning? It's spring break. Don't feel guilty about sleeping in. Rent some snowshoes then wait till the sun goes down. Enjoy the moonlight and go on late-night snowshoe hike through a Tahoe meadow. Don't forget a flashlight and emergency kit. And don't leave the trails. It's easy to get lost at night.
Check out the Alpine Meadows Spring Music Series
Alpine Meadows hosts free music each Saturday through March and April. All shows start at 1 p.m. on the sun deck. Get ready to jam to some fun, funky bands.
Take part in Pain McShlonkey
Dress up in your most outrageous ski clothes and head to Squaw Valley for two days of laughs and philanthropy in celebration of legendary drier Shane McConkey.