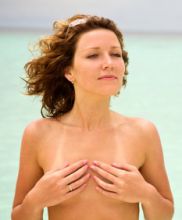 Tired of swimming in trunks? Left your bikini at the hotel? Or do you just really prefer to sunbathe au naturale? Here's the scoop to the best Lake Tahoe nude beaches.
The first cluster is on the East Shore, about 6 miles north of Highway 50 on Highway 28 where you'll see a parking lot on the lake side. Park there, and start heading south down a fire road. Here, you'll have several options to turn off and choose the nude beach you're most inclined to visit.
North and South Whale beaches are a good bet for white sand and a relaxing day, though not all visitors are nude. Secret Harbor Creek Beach is a great nude beach for socializing, from naked grilling (careful!) to volleyball and paddleball, and includes three great hiking trails for the nude naturalist.
Secret Cove, also known as Paradise Cove or Paradise Rock, is one of Tahoe's most frequented and mellow beaches, and about 90 percent of the beach population on a given day is nude.
For North Lake Tahoe nude beaches, orient yourself from Sand Harbor State Park, and head south a little over a mile til you come to a gated Forest Service parking lot on the mountain side of the road. Park here. You'll cross the highway, walk down a sandy path and in 5 minutes you'll find a curving sandy beach and boulders galore. You're at Chimney Cove. It's worth noting that Chimney Beach itself is fairly well-populated by families and suited swimmers … this is probably a last resort.
To find Hidden Beach, take Highway 28 south to Memorial Point Visitors Center parking lot, about a half-mile north of Sand Harbor and find street parking, but beware of the no parking signs; the rangers here are serious business. Just walk along the highway til you see the nude beach, only visible when you peer over the guard rail. This beach is phenomenal with water levels low, and the sand is amazing.