No detail goes unnoticed at Crosby's Kitchen & Cocktails, where owner Russell Jones has spent the past five years making thoughtful renovations and necessary upgrades, all while keeping the atmosphere cozy and friendly.
Nestled in Christmas Tree Village right next to the High Sierra Gardens nursery in Incline Village, Crosby's is both a contemporary restaurant and a charming pub. Whether you're stopping in for brunch before a day on the slopes or meeting friends for dinner after a day on the lake, Crosby's will welcome you in like a warm hug. 
Russell began making renovations to Crosby's not long after acquiring it five years ago – "or 35 years in dog years," he says. What was once a sports bar is now a hybrid cocktail bar and sophisticated restaurant. 
In order to make the atmosphere inviting, the first thing he focused on during renovations, interestingly, was the restrooms. He wanted to make sure they were up to snuff for local families with small children. He gutted the restrooms, retiled the floors, added a fresh coat of paint and replaced the fixtures. He then moved on to reupholstering the bar stools and elevating the dining area. He wanted to make the place look and feel inviting from the moment people walked in the door. From the calming blue tiled walls to the zingy cantaloupe-colored upholstery, he's managed to strike that magical balance between being a late-night pub and a cozy family brunch spot.
The artwork that lines the walls is a great part of the atmosphere. Russell kept a lot of the original photos from previous owners, while finding contemporary artists that could juxtapose with the photos for an added oomph of color. While your eyes might wander over to the colorful animal pictures first, they'll eventually fall to the older photos of Crosby's and Incline Village from decades past. The care that Russell took to honor the old while ushering in the new is highly evident in the art displays.
Beyond the big renovations and eye-catching details, Russell also spent time working on the subtler changes that make the place genuinely feel better. He purchased high-quality serve ware and heavy silverware. He added more POS systems to help the staff work efficiently. He removed some of the gaming stations to create more seating and a more comfortable environment.
Then a surprising thing happened. After taking the time to elevate the atmosphere into a cleaner and more inviting atmosphere, customers became more satisfied with their dining experiences overall and even more appreciative of the food.
"The experience of a meal does not start at the table," Russell says. "It starts with their opinion as they're walking in the door."
And speaking of food, once the renovations were flowing, Russell started to work on menu changes. He wanted more flavor and personality in the dishes and encouraged the kitchen staff to season the food as they would at home.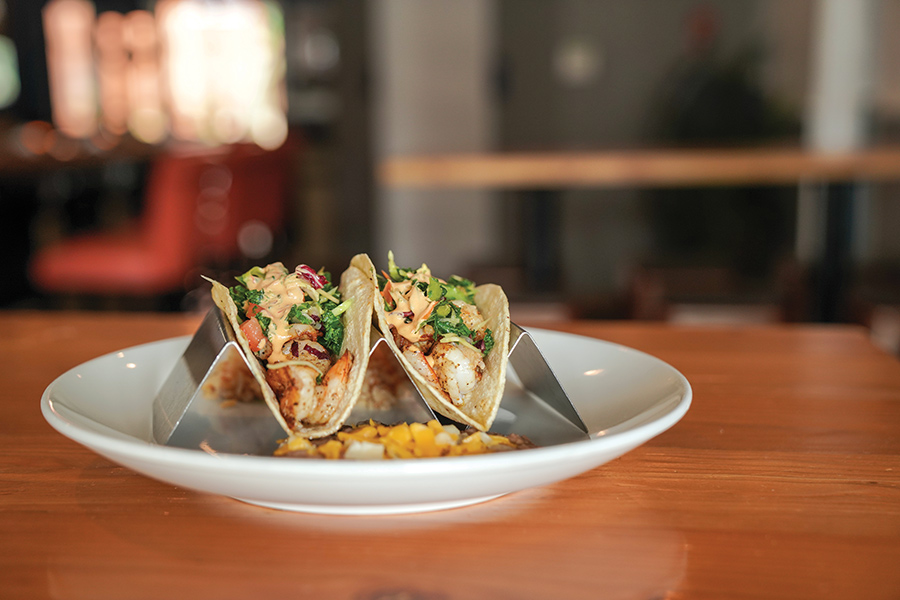 "I wanted the staff to feel cared for and to enjoy cooking," he says. "And then they started feeling more pride in what they were sending out. And now, there's more of a sense of ownership over the food." 
Crosby's serves all-day brunch, lunch and dinner, and everyone in the family is sure to find a dish to love. The food here is both creative and comforting. Brunch ranges from omelettes to Benedicts to avocado toast to fried chicken and waffles with house-made maple bourbon sauce. The lunch and dinner menu includes a range of appetizers, sliders, burgers, sandwiches, tacos and entrees.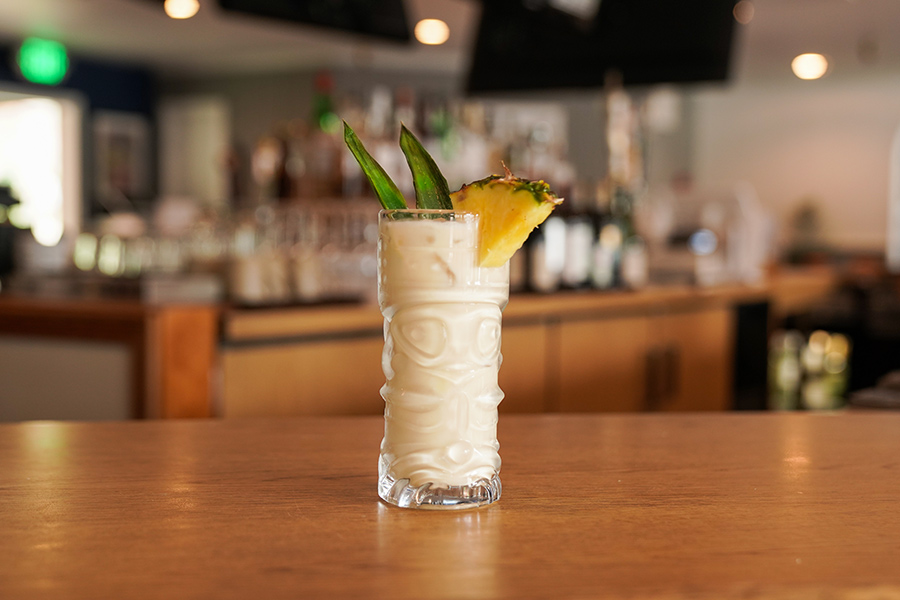 There is seating indoors at cozy booths or at the bar, where there are gaming stations and TVs to watch sports. Out back, you'll find a dozen tables perched along a woodsy creekside patio with mountain views. Dining on the patio is usually available from May until November, and dogs are welcome on the patio. As a dog lover, Russell wanted to designate a spot where people could bring their four-legged friends. The outdoor dining space is a lovely spot, with a large communal table for gatherings as well as smaller tables for intimate conversation. You can get that Tahoe feeling of being out in the woods while enjoying a craft-made cocktail and a great meal.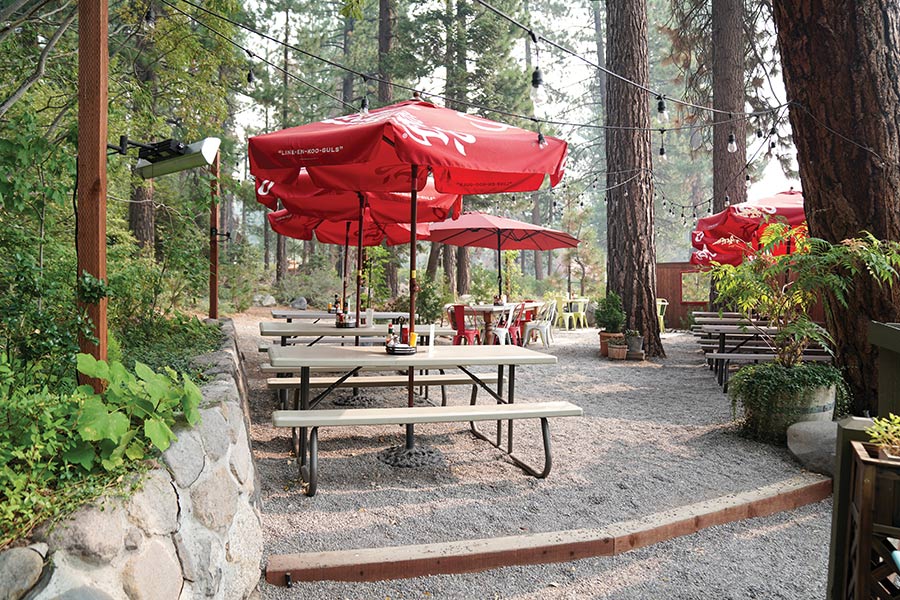 "It feels like you're having dinner in the backyard with your friends," Russell says – and thankfully, it's one that you won't have to cook yourself! 
Crosby's has come a long way since Russell bought it five years ago, and he's proud of what it has become. "This was a little bit of a diamond in the rough here when we started," he says. But with some polishing and refinement, it's now a gem that you'll love discovering in Incline Village.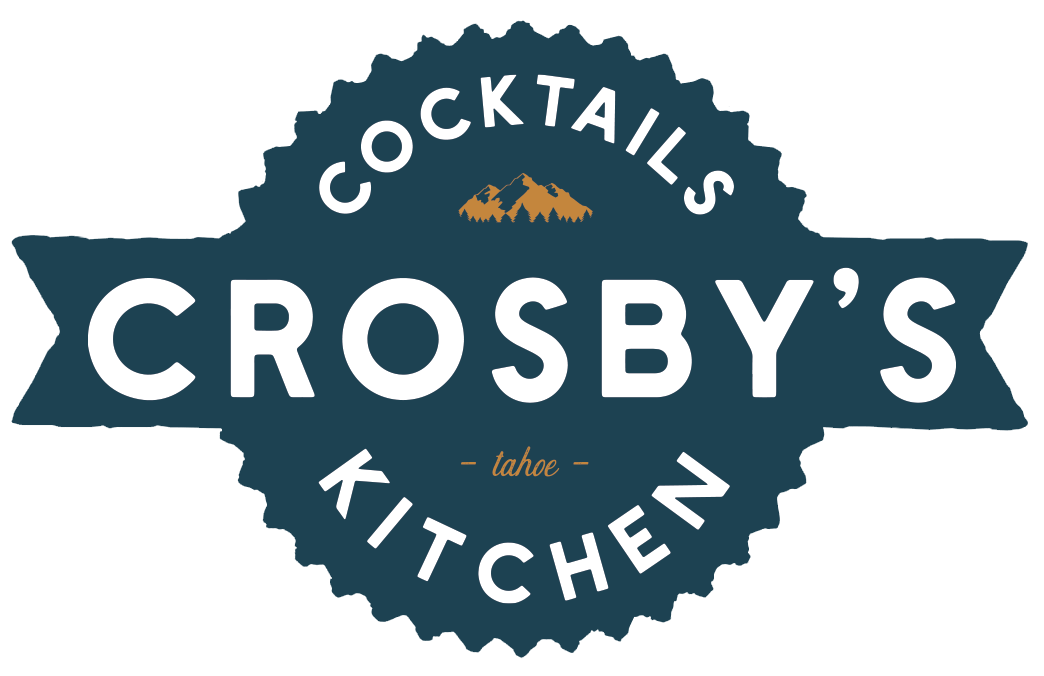 (775) 833-1030
868 Tahoe Boulevard, Incline Village
crosbyspub.com
---